Loving Kindness (Metta) Meditation, 5,000 year old Buddhist Blessing
May I be healed, May I be a source of healing for all beings."
May I awaken to the light of my own true nature
"May I be at peace, May my heart remain open,
Spiritual Care
Spiritual Care tends to the spiritual, emotional, and existential aspects of our being. At no time is this more important than–– whether we want to or not––we are experiencing life through the process of aging, illness, and dying. Naturally questions arise––as perhaps never before in life. Or, new perspectives may trigger painful conflicts with long-held beliefs or traditions.
Where do I find meaning?
How do I feel connected?
How will I live?
How will I die?
We long to know what to trust, how to manage the pain of our experience, where to find meaning, and to know in what we will find hope. Unacknowledged, unanswered, and missed opportunities for exploration or comfort can give rise to emotional distress, spiritual crisis, and physical pain. Spiritual Care engages with this.
"The spiritual dimension tries to be in harmony with the universe, and strives for answers about the infinite, and comes into focus when the person faces emotional stress, physical illness, or death." (Nurses Ruth Beckmann Murray and Judith Proctor Zenter)
Spirituality = That which gives life.
The word "spirituality" comes from root words in Hebrew, Latin, and Greek that all mean wind, breath, or air—that which gives life.
"Spirituality is the aspect of humanity that refers to the way individuals seek and express meaning and purpose, and the way they experience their connectedness to the moment, to self, to others, to nature, and to the significant or sacred."(Puchalski et al., 2009)
Some may find that their spiritual life is intricately linked to their association with a church, temple, mosque, or synagogue. Others may pray or find comfort in a personal relationship with God or a higher power. Still others seek meaning through their connections to nature or art. Like your sense of purpose, your personal definition of spirituality may change throughout your life, adapting to your own experiences and relationships.
Spirituality is not religion or religiosity. In spirituality, the questions are: where do I personally find meaning, connection, and value?
In religion, the questions are: what is true and right?
Where these overlap is the individual experience, which affects the way you think, feel, and behave through Belief, Comfort, Reflection, Ethics, and Awe.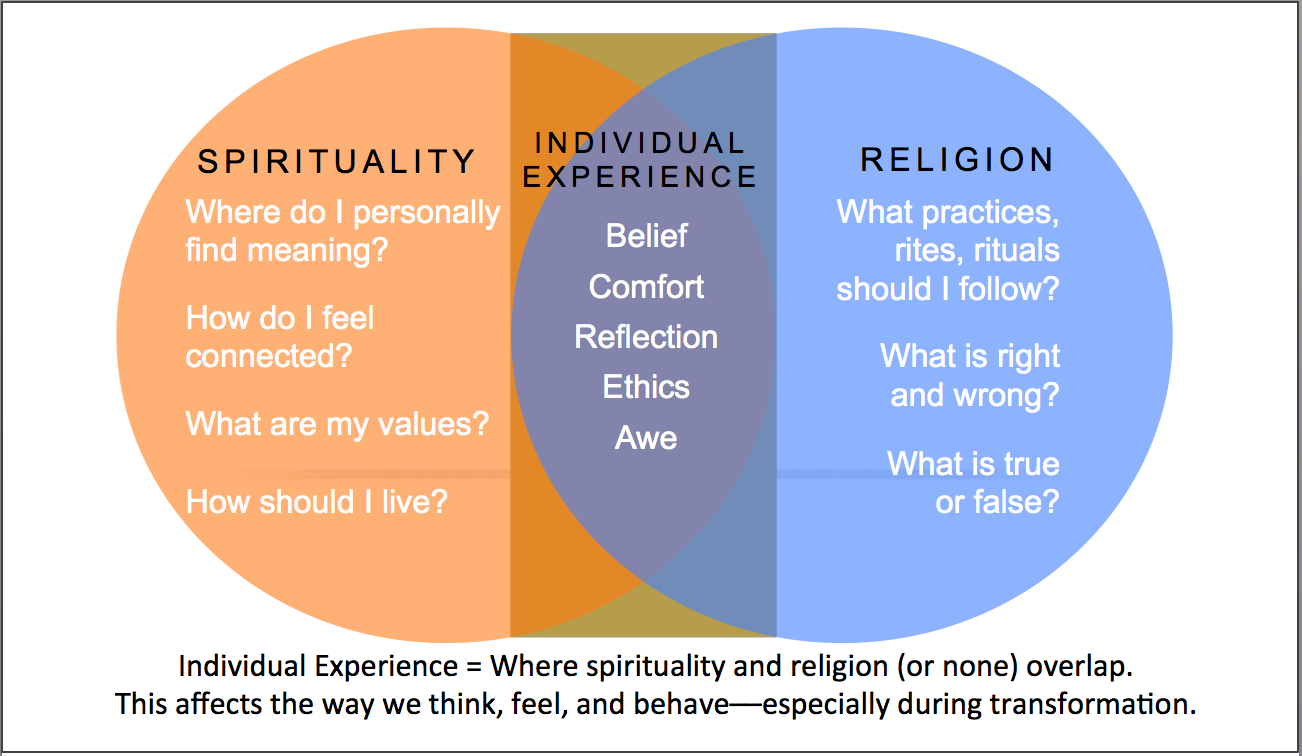 Caring for our Spiritual Well-Being
Spiritual Care draws attention to, and from, this invisible aspect of our being. Through caring for our spirituality, we cultivate a sense of well-being and resourcefulness that steadies us when living through life's more challenging experiences. Spiritual Care incites a return to wholeness. It cultivates a resilient and dynamic center of security within the storm of life. It guides us through challenges to reassurance and comfort. It allows for continual growth and wonder throughout all of life. It connects us with gratitude.
Benefits of Spiritual Care
Compassionate Spiritual Care companionship supports courage (cour age, "with heart"). Presence gives rise to grace and possibility. Listening allows for even the smallest voice to be heard. Witnessing can deepen credence in "aha" moments. Meaning can alleviate pain. Longing can give rise to creativity and hope. Hope leads to expansion, connection, and gratitude.
Spiritual Care in Healthcare
Aging, illness, and dying can involve fears that are physical, spiritual, emotional, and existential. These fears can diminish our ability to remain present and resourceful; they can reduce our resilience. They can cause pain, anxiety, insomnia, nausea, constipation, and exhaustion.
"Among the most frustrating cases in medicine are those in which pain is wrecking a patient's life but adequate relief cannot be provided, in part because no anatomical explanation for the pain is apparent." (Gunderman, "Is Suffering the Enemy," Hastings Center Report, 2002)
Spiritual Care is considered a "best practice" for quality healthcare according to JCAHO, the Joint Commission on the Accreditation of Healthcare, that includes nurses, physicians, consumers, medical directors, administrators, providers, employers, labor representatives, health plan leaders, quality experts, ethicists, health insurance administrators, and educators.
I am especially trained and experienced in working as part of the palliative medical/care team as an advocate for respectful, productive communication. I contribute spiritual care assessments and recommendations to the team of providers and carers to enrich the experience of the patient and carers alike. I help the team tap into the best ways to share important information to each individual patient. And, I help the patient and family/friends discern their beliefs, values and goals of care to direct the team's appropriate interventions and support. I work closely with the patient's own clergy or spiritual community in strengthening their net of support and comfort.
Your Spiritual Care Chaplain
As an interfaith Spiritual Care chaplain, I serve the community of the Mid-Hudson Valley. I support people informed by any and all religions, faiths, and belief systems. Together, we engage with life through love and curiosity, rather than from fear.
 I connect empathically and compassionately with the energetics of the person, engage through their language of conversation and behaviors, and rely upon the sacred dynamic that arises from within the encounter itself. Sometimes religion is involved; sometimes it is not. Non-judgmental, sacred spiritual presence invites possibility. Relationship-based spiritual care sparks the integration of body-mind-spirit for a sense of well-being and of being fully cared for––regardless of what is occurring externally.